We all know how time- and effort-consuming it is to do a complete backlink audit of a site. This is particularly true of websites that have old and/or extensive link profiles.
Before the termination of Yahoo! Site Explorer, one could use Yahoo's celebrated backlink checker to analyze a competitor or to double-check their own links (since Google Webmaster Tools do not always let you see the full picture).
Now that YSE is gone, I mostly use SEO SpyGlass, a backlink checker from the SEO PowerSuite pack, to audit backlinks. And, what I've recently discovered about SEO SpyGlass is that the tool has advanced filters that let one organize backlinks to specific criteria, which really speeds up analysis and makes data easier to read.
So, this post if about how you can use SEO SpyGlass's advanced filters to perform an inventory of a site's backlinks with minimum effort.
Filtering options in SEO SpyGlass
SEO SpyGlass provides rich backlink stats, which makes it apt for the most sophisticated and in-depth link profile analysis. It shows 50+ metrics regarding each referring website such as its URL, title, PageRank, Compete rank, age, Alexa rank and what not.
For you to slice and dice this data in different ways, SEO SpyGlass has a quick search filter at the top of its working area. One can use it to find backlinks with particular words in the URL, referring sites with a certain PageRank, etc.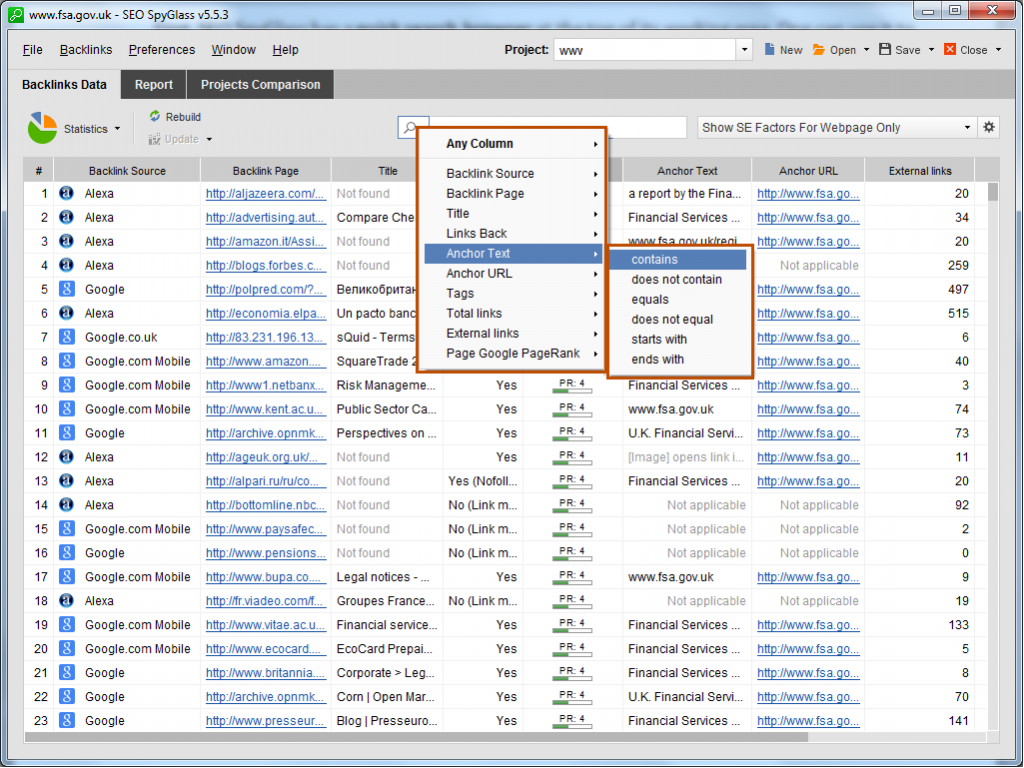 Besides, you can also save filtering conditions to SEO SpyGlass and apply them across different projects you run. This way you don't have to add a condition each time you need to find particular information.
So, creating custom-made filtering conditions and saving them for further use is what I'm going to dwell on.
When SEO SpyGlass's filtering settings come handy
A backlink checker can be used to achieve various goals. For instance, one may want to analyze a competitor's backlink profile or to audit their own backlinks – it depends. Let's see how filters in SEO SpyGlass help one tackle backlink checks that serve different purposes.
Discovering high-PR backlink sources
For example, if you're looking for high-PR niche sites to acquire links from, you can analyze a competitor's website with SEO SpyGlass and then create a filter that lets you see only backlinks from high-PR webpages.
Let's say, I would like to see backlinks only from pages with PR4 to PR 6. To do that, I start SEO SpyGlass, go to Preferences – > Manage Workspaces -> Backlink Data, select the necessary workspace and choose Edit.
In the menu that opens, I click the little plus button and add the following filtering conditions: "Page Google PageRank more than 3" + "Page Google PageRank less than 7".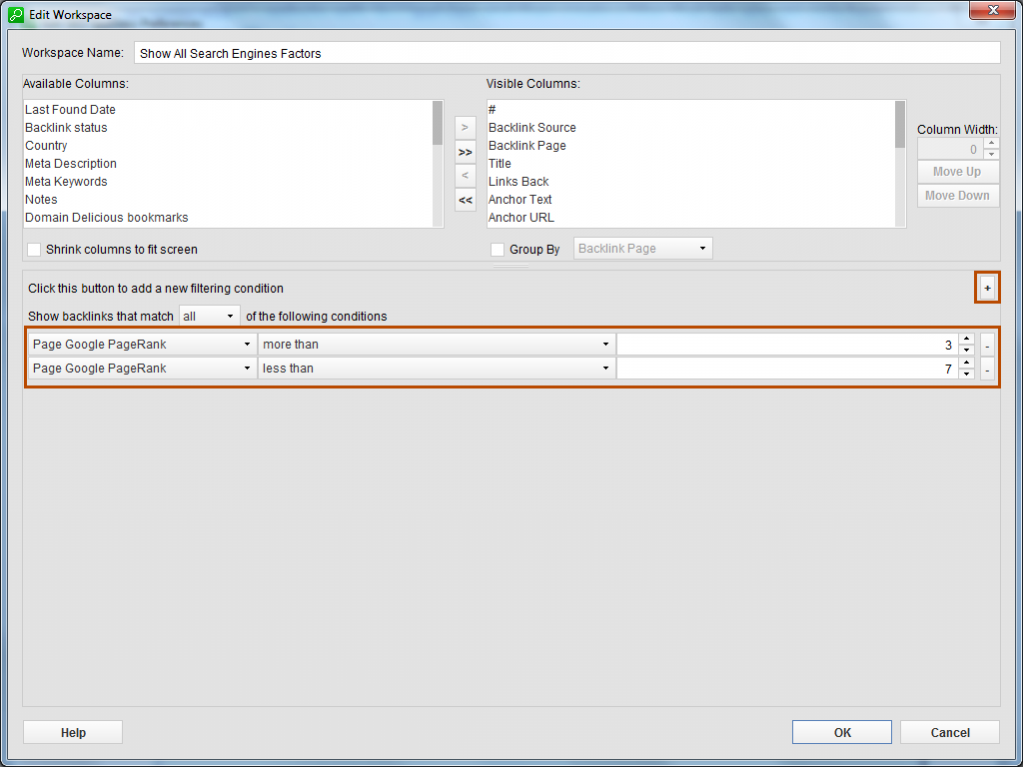 When I re-open the workspace I just edited, I'll see only backlinks coming from pages with PR 4 to PR 6: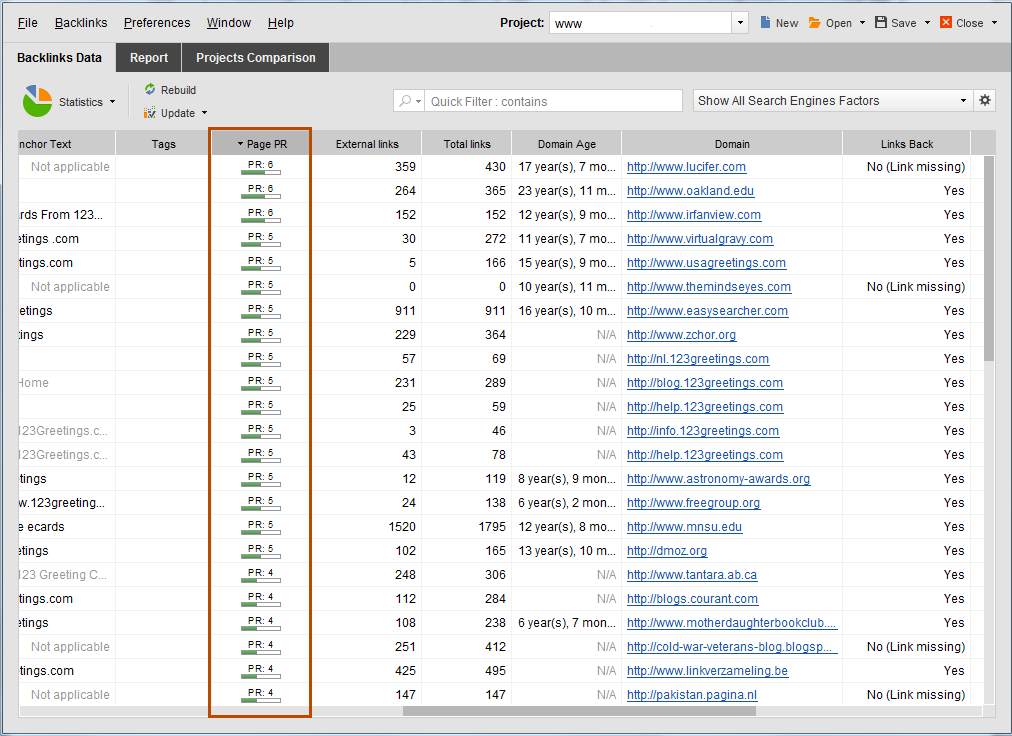 Finding websites relevant to the topic of your site
They say that relevance is the new PR. Well, while this could be an exaggeration, it's no secret that links from related websites have always been deemed more natural and trustworthy by the search engines than links from unrelated web sources.
SEO SpyGlass lets you detect backlinks coming from websites that are thematically relevant to your site.
To create a filter for that, I click Edit on the workspace I'm in and create the following condition "Title contains [keyword]", "Meta Keywords contain[keyword]" "Meta Description contains [keyword]", "Backlink Page contains [keyword]", "Domain contains [keyword]".
I also specify "Choose backlinks that match ANY of the following conditions", in order to maximize the results: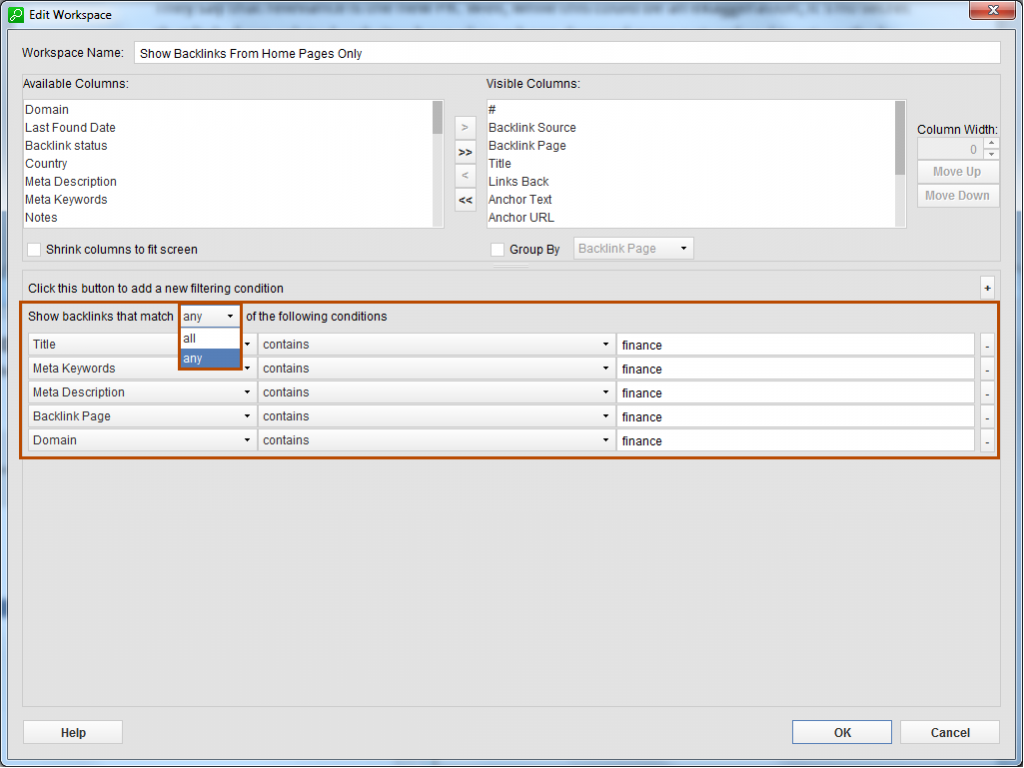 <2>Looking for blog/forum commenting opportunities
In case you're looking for some commenting opportunities, you can use SEO SpyGlass to discover the blogs/forums your competition leaves comments on. For that, run a check to identify their backlinks and create the following filtering conditions for your workspace:
"Backlink page contains blog" and/or "Backlink page contains forum".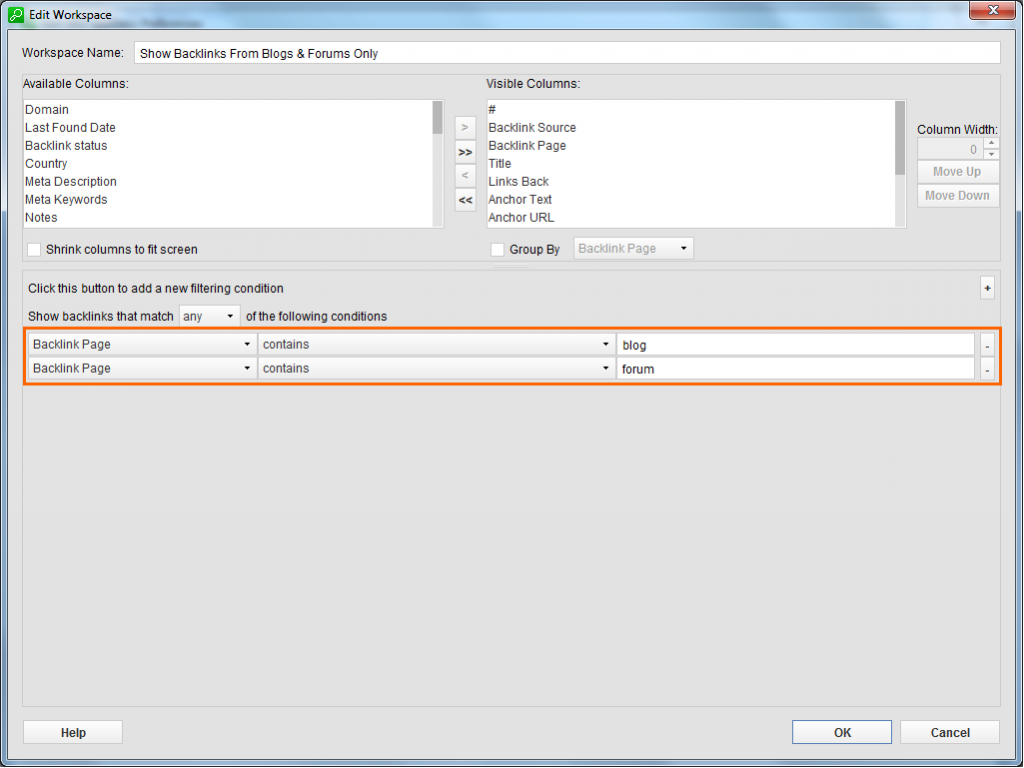 This way you will see a competitor's backlinks that come from blogs/forums only.
Finding backlinks that come from homepages
In case you'd like to locate some juicy backlink sources that might provide you a link from their homepage, you can easily do this with SEO SpyGlass. To find such sites, I created the following filter:
"Backlink page is homepage".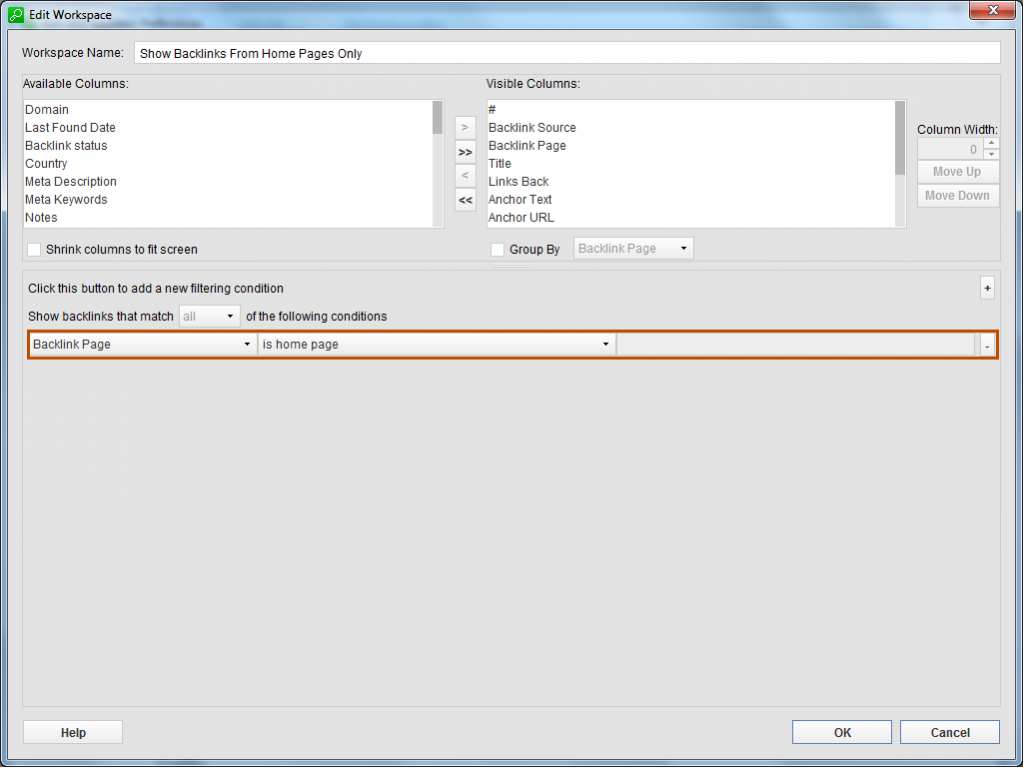 Finding niche directories
Fancy a listing in a high-PR niche directory? Just run a backlink analysis with SEO SpyGlass and create the following conditions to easily define the necessary websites:
"Backlink Page contains directory", "Backlink Page contains submit a URL" (optional), "Backlink page contains submit a link" (optional), "Domain Google PageRank more than 5". You can also add a filter for your target keywords, in order to find directories within your niche.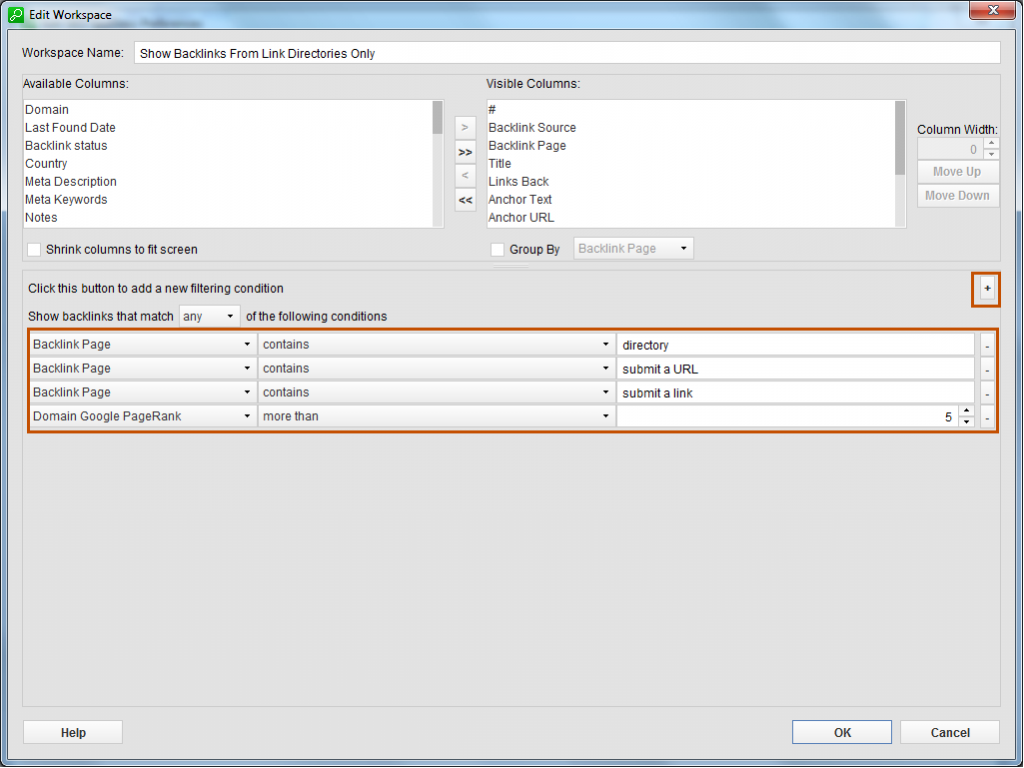 Saving filtering conditions in SEO PowerSuite
Now, is there a way to save those filtering conditions you create in SEO SpyGlass for future use? There sure is. Specific conditions apply to the workspace you create them for and to the project you're working with.
Filtering conditions can be added to default workspaces in SEO SpyGlass as well as to one's custom workspaces. Let me demonstrate how you can create a separate workspace with your own, custom-tailored filtering conditions.
First, you'll have to add a new workspace to the project. For that, go to Preferences – > Manage Workspaces -> Backlink Data and click "Add". Then choose a name for your custom workspace, add filtering conditions (the way it is described above) and click "OK".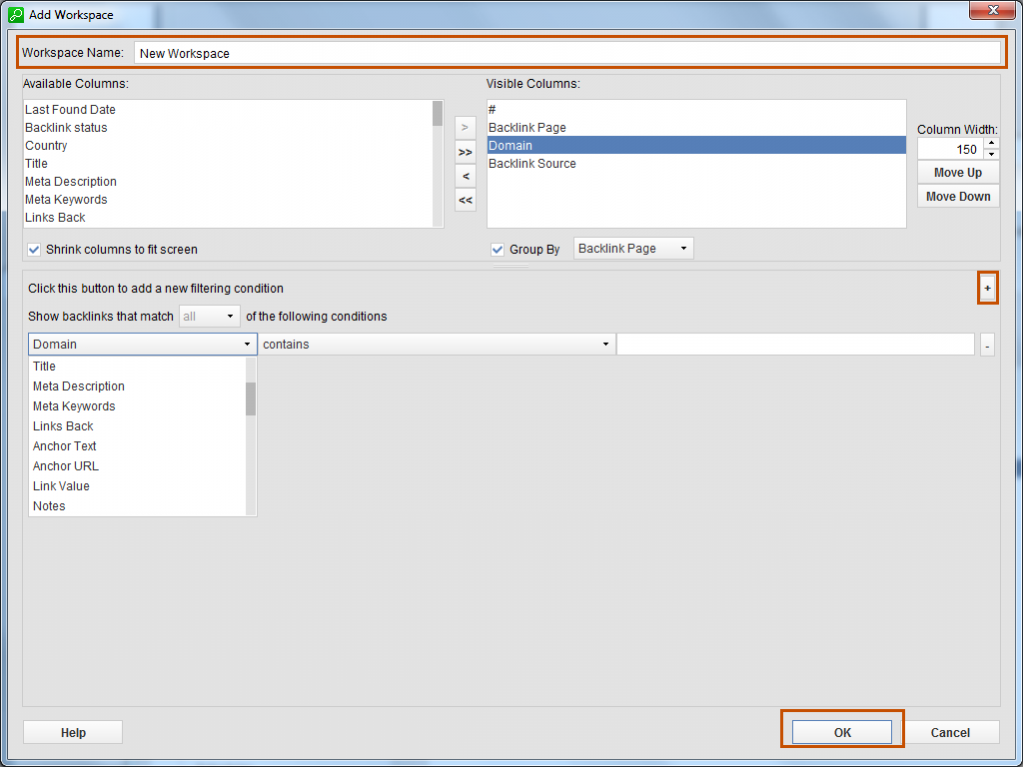 The workspace you created will be available in the menu where SEO SpyGlass's default workspaces are listed.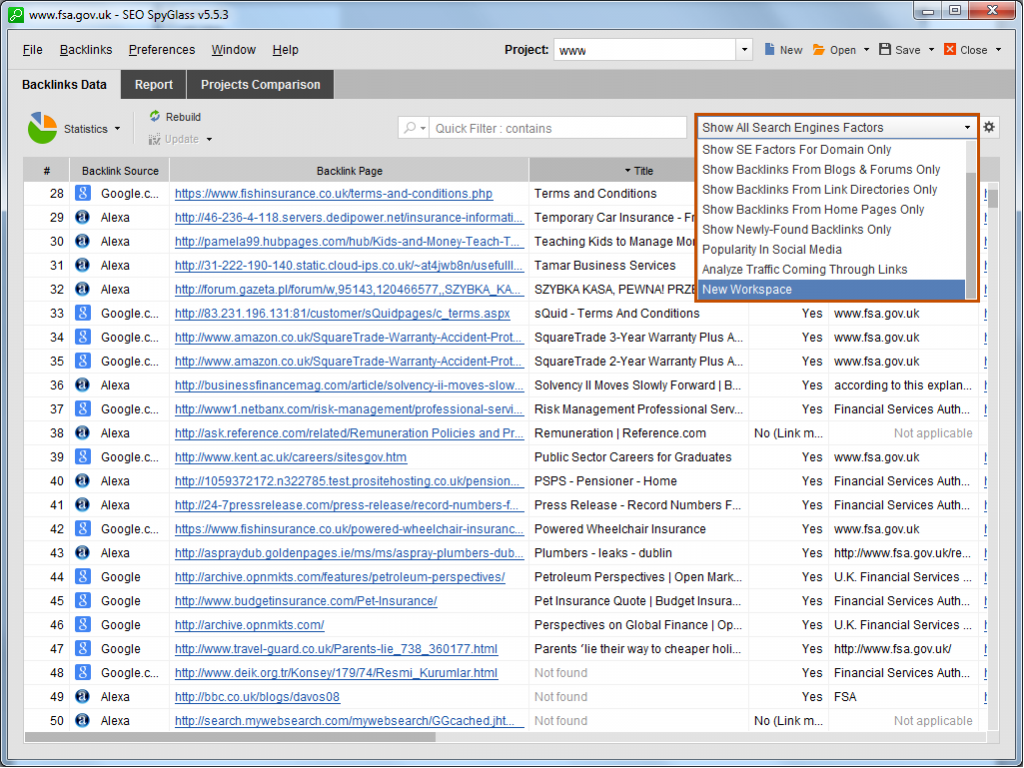 Exporting a custom workspace to another project
Now, the goal is not only to create a custom workspace for an SEO SpyGlass project, but also to be able to use it for other projects without having to set it up again.
So, to be able to access any custom workspace with your own filtering conditions in SEO SpyGlass, go to Preferences – > Manage Workspaces -> Backlink Data, choose the workspace(s) you need to export and click "Copy" at the top.
Then, while in another project, go to Preferences – > Manage Workspaces -> Backlink Data and click "Paste" – voila, job done.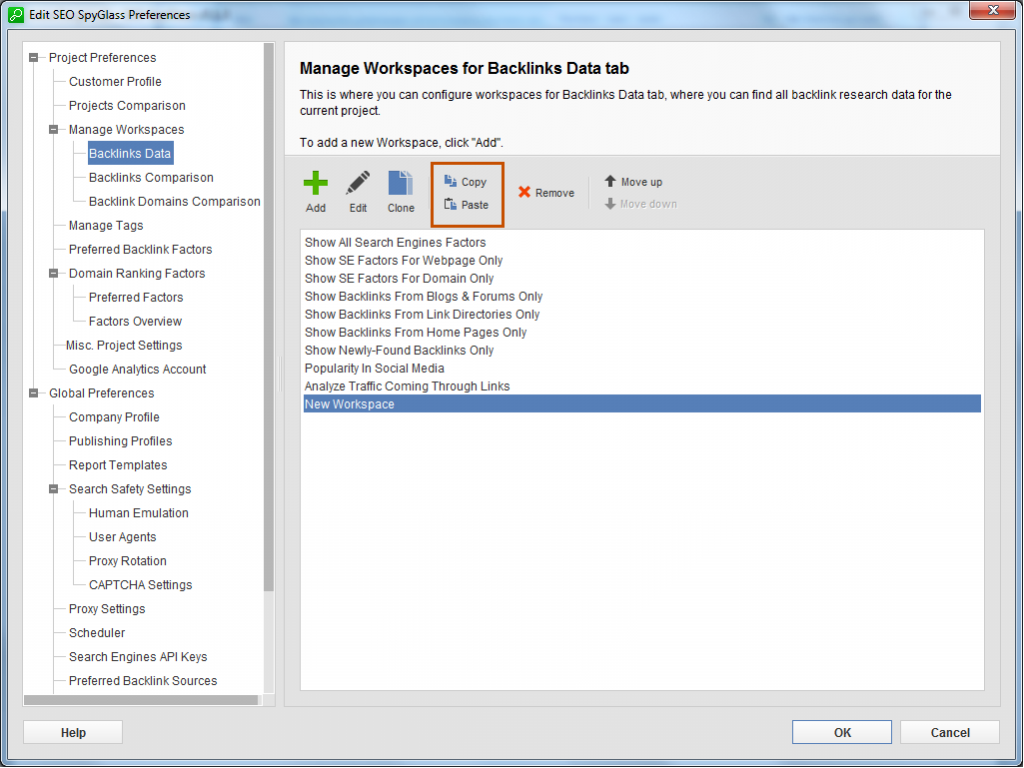 To sum it up, SEO SpyGlass has advanced filtering settings, using which you can organize your backlinks while taking minimum sweats. For more information on SEO PowerSuite's backlink checker, visit the developer's official webpage.