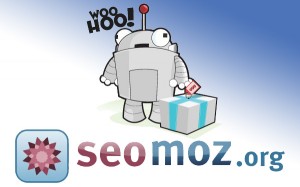 MOZ (or SEO Moz) is a well-respected US-based company that runs its own blog and has a vast online community. The company owns its own index of the web and has developed Web-based SEO software to house the features and functionality of their separate SEO tools. But is that an ideal SEO solution?
Moz in keyword research
With MOZ you can analyze up to 200 keywords. These are the keywords that are already driving traffic to your website. The keyword data is taken from your Google Analytics account. Unfortunately, the tool is not integrated with any other popular keyword research tools (Google AdWords, WordTracker, SEM Rush, etc.), which doesn't let you run in-depth keyword research and analysis.
Moz in rankings check
The software is capable of tracking keywords in the 3 main search engines: Google, Yahoo! and Bing. Alas, but MOZ Rank Tracker doesn't allow you to target other search engines and run geo-targeted rankings check. Also, the data is updated once per week and the tool doesn't store rankings history (only the data from the previous rankings check).
MOZ in content optimization
MOZ calculates the optimization rate of pages that rank in the top 50. The software also lets you analyze content of a particular page for 1 keyword at a time. Together with analytical data MOZ provides some content optimization tips based on its in-house standards.
What MOZ is missing is the ability to analyze site content for many keywords at once. Also, the tool ignores the strategies that proved to be successful by the top ranking sites.
MOZ in website audit
MOZ runs on-site audits to spot problems that occur to a website's coding. The analysis is performed on weekly bases. The software provides you with tips on how to fix coding errors and fine-tune the whole website structure. The maxim number of pages the software can analyze is 10, 000.
The software, however, is incapable of providing data on a site HTML and CSS validation errors, finding broken links, pages with redirects and canonical tags, etc.
MOZ in link building
MOZ has its own backlink database called Open Site Explorer. The database provides a fair amount of backlinks that are analyzed against MOZ in-house SEO criteria, such as Page Authority and Domain Authority.
But what makes the process of backlink analysis a challenge is that MOZ mixes external inbound links together with internal inbound links and treats them all as "inbound links".
Here is the list of features that MOZ is missing:
monitoring Universal search results
geo-targeted rankings check
competition rankings tracking
integration with Google AdWords Keyword Tool
integration with other popular keyword research tools (Wordtracker, SEM Rush, etc.)
the ability to analyze some SEO-important onpage optimization factors
the ability to analyze unlimited number of pages and links
the ability of collecting fresh link data from search engines
the ability to manage backlinks
What's the best alternative to Moz tools?
SEO Powersuite tools have all the features MOZ can't boast of. With this top-of-the range SEO solution you can:
monitor your website rankings across all major international and local search engines
get ranking results from Universal search blocks (New, Videos, Places, Images, Shopping, etc.)
get ranking results for a specific city/state
run in-depth keyword research with 19 supported tools (Google AdWords, WordTracker, SEM Rush, Keyword Discovery, etc.)
get ready-to-implement onpage optimization strategy based on most successful competitors' techniques
analyze unlimited number of pages and links
analyze links to various SEO-important criteria
Want to check SEO PowerSuite in action? Download your free license here and see how your website rankings skyrocket.