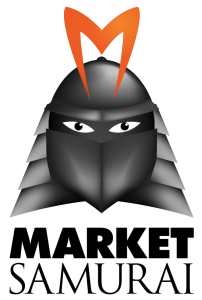 Market Samurai software is quite popular in the Internet marketing community. Despite being in a constant beta stage, the software offers some useful SEO features. But is that an ideal SEO solution?
Rank Tracking
Market Samurai lets you track your website rankings in 3 search engines – Google, Yahoo! and Bing. Together with rankings data for each keyword, the software displays the URL of a ranking page, its PR and the # inbound links. Historical data is displayed in charts.
Alas, but the tool is incapable of tracking website ranks in other search engines. Also, there's no option to check local ranks or Universal search results. Another bitter pill is that there's a limit on the number of keywords one can track ranks of – the maximum number of keywords one can monitor is 2, 500.
Keyword Research
Market Samurai is integrated with Google AdWords Keyword Tool, which lets you pull keyword data from this source. Alongside with keyword suggestions, the software pulls some SEO-important metrics, such as organic traffic, competition, search volume, etc.
Unfortunately, Google AdWords is the only keyword research tool the software is integrated with, which limits the number of keyword suggestions one can get for website optimization.
SEO Site Audit And Content Optimization
Market Samurai doesn't have any module that handles such essential website optimization activities, as checking website coding and structure and optimizing website content.
Link Building And Management
Also, but Market Samurai leaves you completely unarmed when it comes to building and managing links. So you either have to do this task manually or bring into play some other SEO tools.
The software performance and UI customizability
Market Samurai performance and stability leave much to be desired. The software often freezes or crashes even when executing simple tasks (rankings check, keyword research, etc.).
Besides, the software interface can't be customized to user's needs.
SEO PowerSuite – is the toolkit capable of what Market Samurai can't do?
SEO PowerSuite is another popular well-respected desktop SEO solution. The toolkit has all the features Market Samurai is missing.
These are the key advantages of SEO PowerSuite over Market Samurai:
stability of performance
customizable interface
the ability to check rankings in all major international and local search engines
the ability to monitor Universal Search results for news, pictures, videos, places, shopping, etc.
integration with popular keyword research tools (Keyword Discovery, Wordtracker, etc.)
the ability to run in-depth website audit and spot all structure and coding flows
the ability to analyze content and tailor ready-to-implement onpage optimization strategies
in-house backlink database
the ability to find valuable backlink sources and manage links
scheduler (lets users run tasks on auto-pilot)
Check this all-inclusive SEO solution. Download the Free license of SEO PowerSuite tools here and make your website Google's favorite.