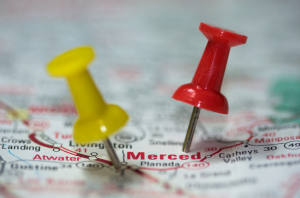 Everyone who is engaged in promoting websites on a local level knows that things like optimizing for Google's local listings, building citations and getting positive reviews are the key components of a strong local search presence. Implementing these things can be quite a challenge. But luckily there are tools that can be of great help and streamline the process of local search engine optimization.
1. Tools for localized keyword research
When it comes to finding and listing local keywords, the main challenge is to determine how valuable they are from an SEO prospective. Thing is, keywords with locations as modifiers can frequently have extremely low search volume, so one may get no data for them. Fortunately, there are some apps that are capable of finding the best keywords for local SEO campaigns.
Keyword Planner has substituted a one-time popular Google AdWords Keyword Tool. The new tool has inherited most of the predecessor's features.
With Keyword Planner you can:
get lots of keyword and ad group suggestions;
see how a list of keywords may perform;
create new keyword lists by bringing several lists of keywords together;
and dozens more.
What Keyword Planner is missing is a column for average local search stats. But the tool lets you target your search for a specific location, so you can get stats for an average number of searches in a particular region.
The targeting section of the Keyword Planner (see the screen-shot below) offers some options to choose from. You can narrow down a typical search by choosing a language or a geographic location (country, city).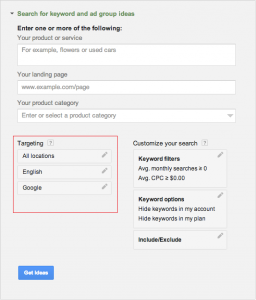 Note that when it comes to researching too specific localized keywords, Google Keyword Planner may bring no results. If you face this issue, check out this article. It will tell how to find traffic-profitable local keywords when keyword research tools fail to deliver any results.
2. Citation finders
Citations are generally defined as "mentions" of one's business name and address on other sites. Citations may be accompanied with a link to a mentioned site or may go without it. The typical example of a citation is an online Yellow Pages directory: businesses are listed there but there's no link pointing to those companies' websites.
There are some important things to remember:
to aid search engines correctly attribute citations to your company, you need to use the same Name-Address-Phone Number-Zip combination in all the mentions of your online biz;
you should avoid citations coming from low-quality, low PR websites with poor traffic. Such citations won't bring you any SEO value and spoil your site reputation in search engines' eyes.
Below are the examples of some tools for improving citation rates:
Whitespark's Local Citation Finder
The tool proved to be effective in both tracking your own site citations within your city and/or industry and finding the best sources to get new ones.

The app checks how your business is indexed on some popular local search engines and platforms (such as YellowPages, Yelp, Localeze, CitySearch, YP.com and others). The app also offers easy to follow strategies that will let you improve your biz citation in the above mentioned sources.
The main goal of the tool is to "help small businesses claim and enhance their listings at major search engines."
On top of that, the software lets you check if your business details (such as name – phone – address) are the same across different sites.
And remember: there's no point in submitting your website to each and every directory. It's enough to get your business listed in the major directories of your niche and industry.
3. Reputation management tools
Reputation management is a complex set of activities aimed at monitoring, improving and controlling how the public views you, your business and those who work for your company.
The process of reputation management implies:
monitoring your company/brand mentions on the Web;
dealing with negative feedback;
providing objective information about your local business;
shaping positive sentiment about your company's product or service.
Reputation management software can make the whole process much easier.
With the help of this tool you can gather your brand mentions from different forums, blogs, social media sites (such as Facebook, Twitter, LinkedIn) and other popular boards. Thus you can monitor what is being said about your product or service and manage all negative feedback.
Also, the tool lets you use multiple profiles across various social sites to serve as representatives for all campaigns. On top of that, BuzzBundle lets you automate some social media activities (collecting social mentions, posting, etc.).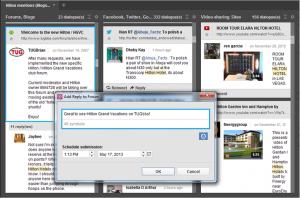 With the help of this service you can set up a monitoring system and track anything you want. Thus, you can find what people say about your company, keep track of all your brand mentions, monitor your online competitors or simply keep up to date on a given topic. The service is free and easy-to-use.
4. Web design software
Luckily, most small business owners don't need multi-level complicated websites. Having a simple, easy-to-navigate site that has all necessary information about your company, product or service is more than enough to do well in your local niche.
It's the best platform to build a website for your local biz. WordPress offers a number of free themes that let you create a professional website look-and-feel.
One of the most popular with small business owners themes is called SmallBiz (by Don Campbell). It costs only $97 and includes email support. One of the theme's key advantages is that it easily adapts to mobile platforms, which is really important for any local biz.
5. Local rank checking tools
And finally, to measure the result of your local SEO campaigns, you need to check your site local ranks. There are some SEO apps that include local SERP trackers and are capable of geo-targeted rankings check.
Rank Tracker (by Link-Assistant.Com)
The tool can monitor you website rankings on a state/city level and save rankings history for every keyword added to a project. In addition, the software lets you track your competitors' ranks and compare them to yours.
We have mentioned just one ounce of all the tools designed for local SEO. But these tools won trust with lots of small business owners and are highly rated for their features and capabilities. Depending on your needs and budget you may choose the solution that will work for your online local biz the best possible way.
P.S. If you use some other tools for promoting your biz on a local level, please share thoughts and ideas about them with us. Your comments are very welcome.