Follow the steps listed below to perform a keyword research, which is essential for a start of any SEO campaign.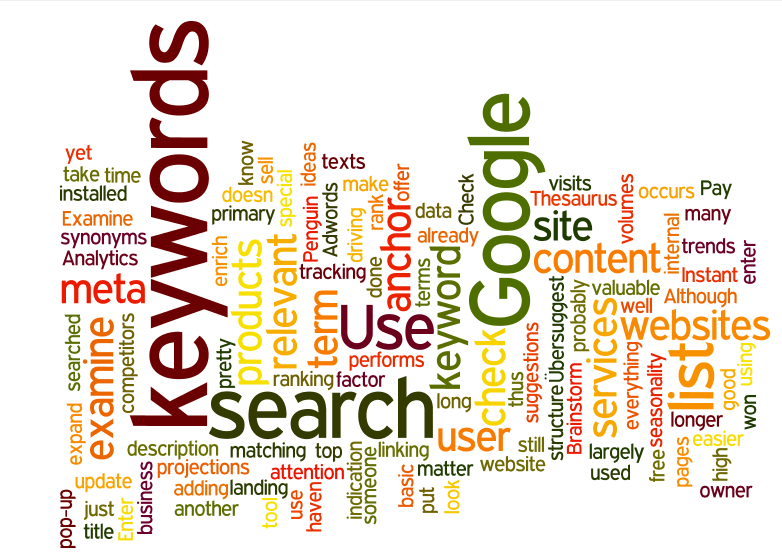 Brainstorm. If you are a business owner yourself or if you know what products and services you offer, to make a primary list of keywords won't take you long. It doesn't matter how largely they are searched for – just put down everything that occurs to you (in terms of products and services you sell). Examine the structure and content of your website to enrich your list.
To further expand the list of ideas, use Google Instant search, enter basic keywords and check what suggestions pop-up.
Use Thesaurus to look for synonyms. Enter the keyword and then check "Synonyms:" entry.
Use Übersuggest
Google trends is another free valuable tool for not only tracking seasonality and search volumes projections, but for adding keywords from the "Related terms" section.
If you have Google Analytics installed, examine top visits driving keywords. Use site search data as well, because if a user performs an internal search, that's a pretty good signal, that the term is relevant and that the user is likely to convert.
It's high time you examine your anchor texts (if you haven't done it yet after the Penguin update) because if someone is already linking to you using the anchor matching your keyword, your site is probably relevant for that term, and thus it will be easier to rank for it.
Check your competitors' websites. Pay special attention to the title, meta description and landing pages content. Although Meta keywords are no longer a ranking factor, they are still used on many websites and may let you see what keywords are targeted by your competitors.
However, in order to look at the competitors' landing pages you firstly have to know who your online competitors are. I won't reinvent the wheel and will just shortly describe the process of manual selection of competitors using free SEOquake add-on for Firefox. If you already know who your competitors are, just skip these paragraphs.
After you install SEOquake, there'll appear a bar below every search result featuring different website and webpage metrics. By the way, these metrics are customizable: go to Preferences > Parameters and select which metrics you consider useful. You can even add your own using regular expressions. I'd recommend checking Google PageRank, the number of indexed pages, number of links to the page and domain (which is important because that'll probably be a number you may need to reach to overtake your competitor). For research purposes you can also check Whois data (domain age, location etc.) and Alexa rank.
Below you can see the screenshot of my SEOquake Preferences.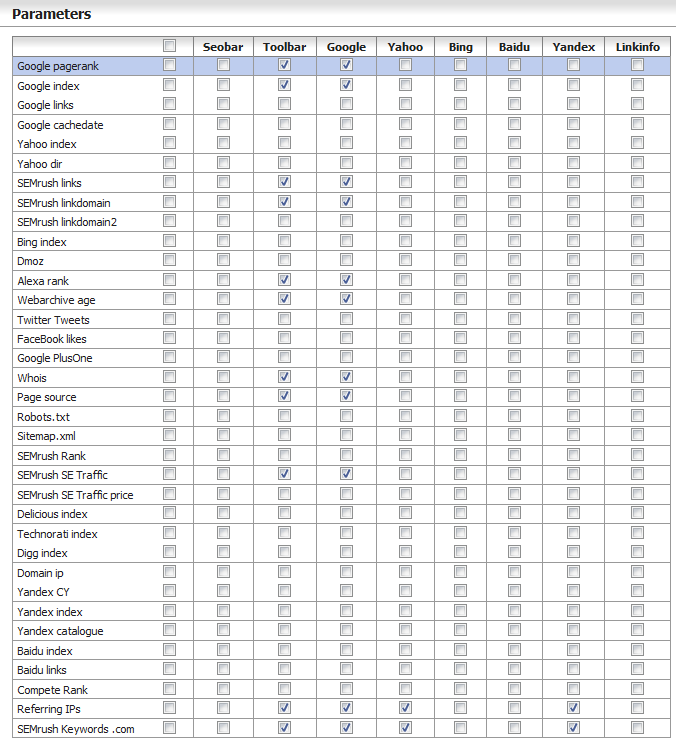 Click to enlarge
This bar will give you an overall impression of how strong your competitors are. I suggest you examine top 10 results for 5-10 most important keywords. Try to estimate your chances of competing with this or that website. RageRank of 4 or higher, many links from unique domains and good on-page optimization should get your attention. If the top of SERP is packed with such websites I wouldn't bother targeting such keywords at least for the time being. I don't mean you can't beat it, but it'll take a bit of effort and there are much easier keywords to target. After excluding keywords with extremely strong and authoritative competitors (you can always add them on later stages) follow to the next step.
9. We are going to use Google AdWords tool. It's worth mentioning that search volumes provided here are not 100% exact, but reflect the overall picture.
Firstly you can enter your site address, and the program will generate a list of keywords to consider. If they are worthy, add them to your list of suggestions. Then:
Copy and paste the keywords you have selected;
Make sure you tick [Exact] match type on the left;
Select your region, language and devices you wish to scan.
As a result you'll get search volumes and a bunch of other keyword ideas. Click "Download", select "All search results" or "My keyword ideas" (depending on what your need), select format (usually CSV) and save the file.
Now we'll add some more fields and data to the excel file. Firstly you can explore all keyword ideas and color those which match what you want to target, for example exclude keywords which have fewer than n (depending on your niche) exact monthly searches (that's easily done by filtering). If you are going to target a brand, consider global search volumes as well. Keep in mind that relying on search volumes at the beginning of your research may serve you badly. Long-tail keywords usually have small search volumes, but these terms may appear in the top converting in Google Analytics. Thus, don't remove all keywords with low search volumes at once and check analytics first. Note that the displayed level of competition (Competition column) concerns AdWords™ and differs from competition in organic results. You can simply ignore this column.
It's high time to check where you currently rank for the keywords you selected (if you don't know that yet). If you've already selected what pages you'll optimize for this or that keyword, pay attention to whether the right page ranks for the keyword you target and highlight if not.
As a result, your table may look something similar to mine (note that this is a sample table with random ranks and keywords):
To make your report even more comprehensive, check the rankings of your competitors (which you already selected) and add corresponding columns in the table.
Your list of keywords is ready. All you have to do is to optimize your website pages for the keywords you selected. Don't forget to update and expand your keywords list from time to time as when your site grows and rankings improve you'll fortunately be able to target more and more competitive keywords.