During recent years the SEO world suffers from a fierce arms race: every time Google sends some disasters like its Penguins or Pandas, webmasters invent something to fight back. Guest blogging was born as a source of relevant contextual links as a substitute for less efficient 'traditional' link exchange schemes.
As it happens with any SEO tactic – it proves inefficient if done manually. Thus, there emerged services that would act as match makers for bloggers and those willing to get guest posts or reviews in the blogs. Reviewme.com offers this kind of service. In the pursuit for "quality" links I signed up for Reviewme.com but instead I got nothing but the headache. Reviewme is a scam, eager to learn why – continue reading.
1. Workflow
The service allows you running two types of campaigns: a self-service campaign and an automatic campaign. In the first case, you approach individual bloggers listed in the Reviewme directory with a writing task and then they approve, decline or ignore your bid. In the second case, Reviewme commits to provide you posts of certain quantity and quality as per your description.
Your bid (or in other words the status of your application for a blog post) may have three states:
Declined (a blogger opted not write a post)
Cancelled (a blogger didn't response to your bid within seven days)
Approved (a blogger agreed to write a post as per your request)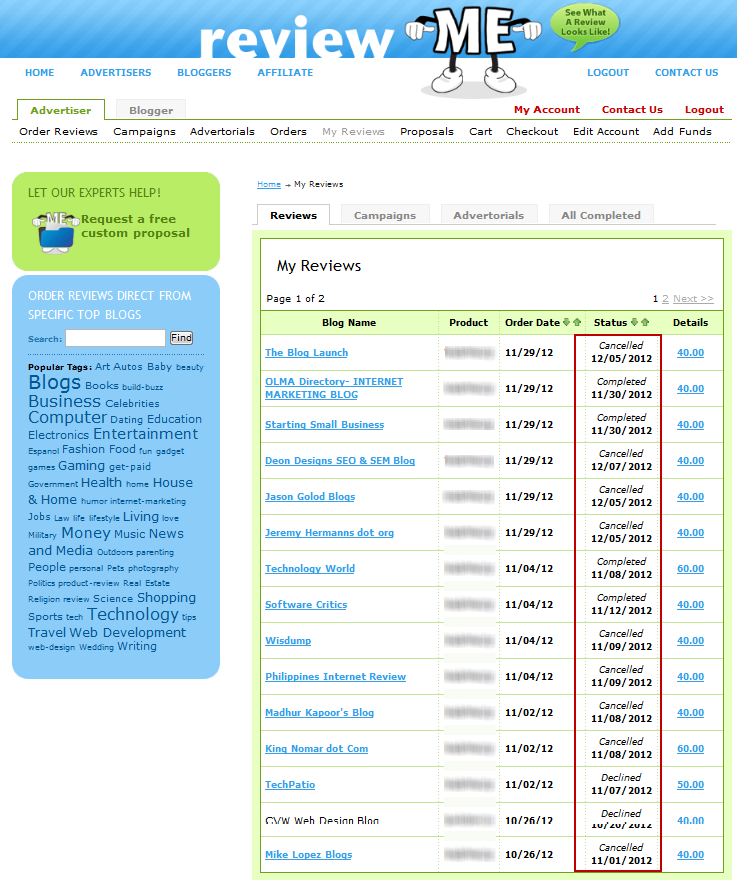 2. Payment
Every time you make a manual bid (a minimum of 40$) Reviewme reserves the bid amount on your PayPal account, in other words you can't use it anymore. If your request is declined or cancelled your money is stilled reserved by Reviewme and you have to use it for another blog post (if you have a chance to get any, which is hardly possible).
If you opt for an automated campaign, Reviewme creates a recurring monthly payment in PayPal without your approval or any explicit notifications, you find out about this trap only a few months after, when reviewing your PayPal statements.
3. Pricing
The prices vary from 10$ (automated mode, there's a minimal amount of posts you may order) and 40$ (for manual mode) up to hundreds of dollars, but in fact the price does not reflect the quality you are getting in return.
4. Results
In 'manual mode' 90% of your bids are cancelled, about 5% are declined and about 5% end up with a post. As the result you end up with a ridiculous amount of money blocked by Reviewme with virtually no chance to use it, because your bids are cancelled or declined again and again.
In 'automatic' mode your campaign gets completed rather quickly. However, you will get links from cookie cutter websites, which are hardly related to your niche. Moreover, you are not getting a descent article; neither will I dare to call it a review. These are some pieces of copy-paste slightly rewritten texts, the authors are non-native speakers (God bless India). I paid 400$ to get 10 articles like this. I bet I could have made the minimal bid to get the 'reviews' of the very same quality.
5. A bit of investigation
I first guessing was that Review me have their private blogs farm (which is most likely true) but the other accounts listed in their directory are fake. I contacted directly about 20 top bloggers listed in their directory, most of them acknowledged that they had registered with Reviewme but don't use it. In other words, their directory contains lots of dead listings.
I also registered a separate account as blogger and added several good blogs to the Reviewme directory. The blogs passed approval by the editors but they never appeared in the Reviewme directory. You simply can't find them there no matter what you do. I contacted support several times, they were ignoring me. After 3rd of 4th request they finally answered that my blogs were "listed", but I couldn't find them even them. During several months I didn't get a single request for a review.
6. The support
The support normally ignores all your requests until you repeat it several times and switch from your tone from polite to rude. However, none of their actions or advice is helpful.
7. Refund
It took me several weeks to get my blocked funds back. I had to contact their support; they started acting only when I reported the Reviewme transactions to the PayPal resolution center.
So steer clear of Reviewme scammers, even though they actually do provide you a service it does not match one's expectations and is obviously overpriced.