YouTube is a huge media platform that serves up millions of videos to billions of viewers worldwide. It's a great place where you can use your video content to promote your biz and find lots of potential clients.
So how do you get started?
First, you need to set up a YouTube channel and fill it with high-quality, useful, informative (or funny) videos. Second, you need to find ways to secure the right kind of attention for your video content.
Read this article and you will learn how to:
optimize your YouTube videos to make them show up in video search results and elsewhere on the Google Display Network;
use YouTube AdWords Keyword Tool;
combine paid and free ways of promotion videos on YouTube.
Free Ways to Promote Video Content on YouTube and GDN
Here are the steps that will let your video rank higher in YouTube search results and help it show up on the Google Display Network.
Ideally, you should do that whenever you upload a new video to your YouTube channel:
1. Compose smartly optimized titles and descriptions. Remember that you need to use the right keywords for that. To discover what keywords are more likely to drive you targeted traffic, you can use YouTube AdWords Keyword Tool.
2. Add your website/blog link to your video description. Links to all of your social media profiles can be included as well. Note: when posting links, make sure you include the "http" or the "https," as that's the only way YouTube can automatically hyperlink them.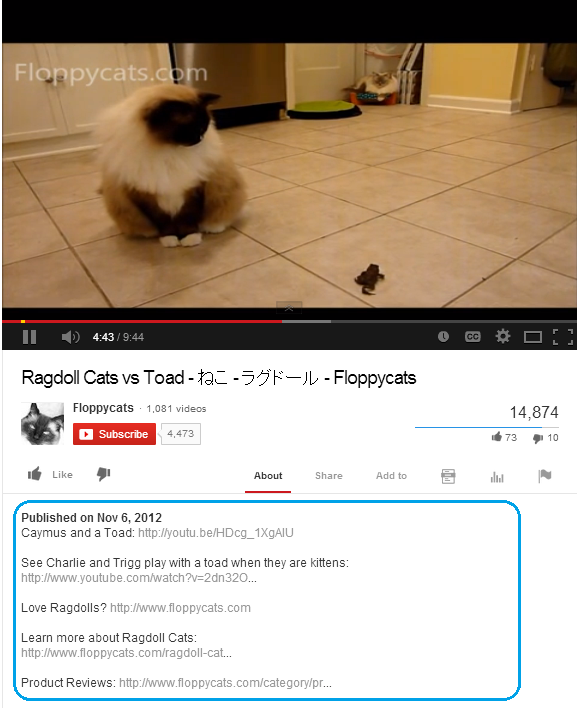 3. Maximize your tags. There are 2 types of tags you can use for your videos:
generic or macro tags (help your video get into a particular category);
specific tags (let your video stick out when someone is searching for a specific topic).
Ideally, you should combine both types of tags. But remember that you shouldn't exaggerate with tagging your videos, as over-using tags may be regarded as spam.
Also, avoid compound tags (e.g. "MinecraftTutorial"), misspelled tags and tags with conjunctions or prepositions.
4. Share your videos everywhere. Remember that the more viewed a video is, the higher it ranks.
5. Build relationships with influential vloggers. Comment on their videos, rate them, share their video content. If you manage to get on your niche influencers' radar, you will get more chances to promote your videos in popular YouTube communities.
6. Encourage people to subscribe to your channel. If you produce great video stuff you may ask people to subscribe to your channel right at the end of your videos.
To better manage your YouTube promotion activities and engage with your audience, you may use BuzzBundle.
That's an SMM tool that has a free version and lets you mass-produce your video marketing efforts, manage your videos and improve their visibility.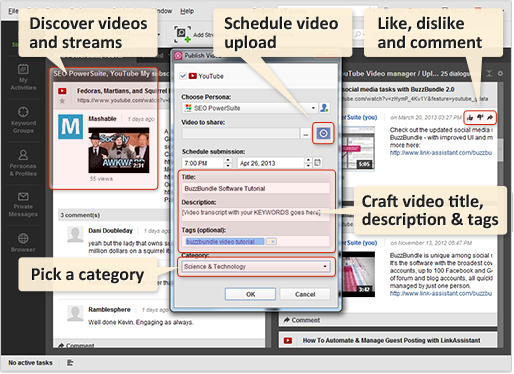 Using Google AdWords for Video Promotion
AdWords for Video is a part of Google's advertising suite that enables video promoters to:
precisely specify their target audience;
find the best ways to reach target customers;
spend advertising budget the most effective way.
Here are 5 AdWords for Video options available to YouTube advertisers today:
TrueView In-Search Ads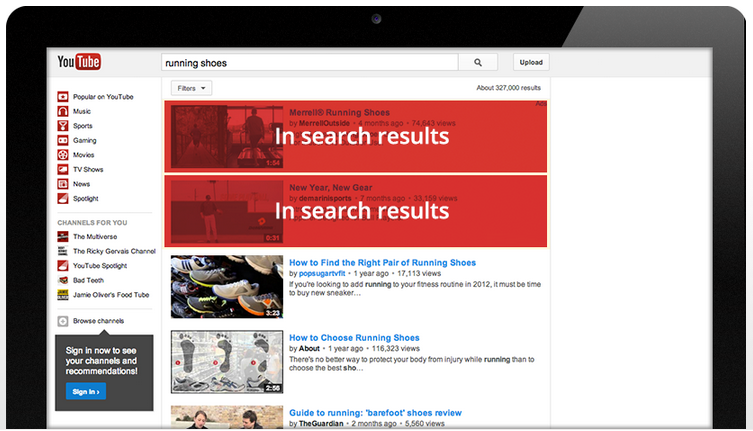 This type of YouTube Ads is displayed right in video search results.
These ads are based on the keywords that advertisers target. Also, advertisers get charged only if a viewer opts to watch their ads.
Like traditional search ads, In-Search ads can be targeted by level of intent. This type of advertising can be very efficient in transitioning a potential customer from the research and consideration stage to the stage of taking action. That works especially well for products that are easy to showcase and detail with video.
In-Search Ads may also show up elsewhere on the Google Display Network, depending on viewer's and advertisers' settings.
True View In-Display Ads
This type of YouTube ad units is displayed next to related video watch pages on YouTube and Google Display Network's partner sites. The advertiser is charged only when the user selects to watch the ad (it doesn't matter whether a user watches it up to the end or not).
Note that the AdWords for Video UI will require from you a description line one and two to be filled out, but on the YouTube watch page only the headline will be displayed to potential viewers. That's why you have to manage to transmit your message within 25 characters available.
NB! Here is the set of practical tips for promoting YouTube TrueView In-Search and In-Dispay Ads.
True View In-Stream Ads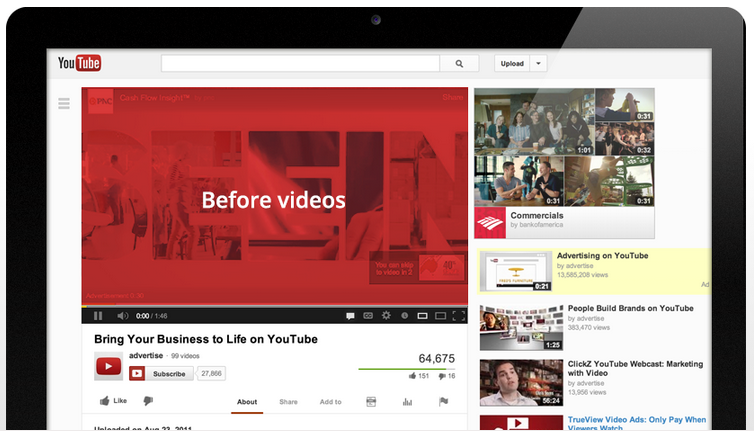 This type of ads is displayed right before the video start, which makes it not very popular with viewers. They have no choice to skip such ads during the 1st 5 seconds, and then they can opt either to watch an ad till the end or skip it.
In case a video ad lasts longer than 30 seconds, an advertiser is charged when a viewer reaches the 30th second mark. If the video is less than 30 seconds, an advertiser is charged when the video finishes.
If you want to make exposure and branding views your objective, this type of ad will be the best choice for you. If done the right way, In-Stream ads can be very cost-effective and provide the highest view-through rates.
The biggest challenge concerning this type of ads, perhaps, is to keep users watching during the 1st 5 seconds. This part of your video must be very enticing to make viewers watch the whole ad up to the end.
Standards In-Stream YouTube Ads
Standard In-Stream ads are very similar to the standard type of TrueView In-Stream type but have too substantial 2 differences.
Standard In-Stream ads are can't be skipped (one has no choice but to watch them); they can last up to 15 seconds (for videos that are no longer than 10 minutes) or 30 seconds (for longer videos).
Display YouTube Ads

And, finally, YouTube also lets you promote your biz via banners. They can be displayed either as an in-video overlay (as soon as video reaches a yellow mark) or next to the Suggested Videos section.
When opting for this type of ads, advertisers pay either per click or per impression.
Tools for Google AdWords for Video
There are some useful tools that can help you better manage your YouTube paid ads.
To research popularity of YouTube videos (in order to place your ads in or near them), you may use YouTube AdWords Keyword Tool.
Also, Google's Ad Placement Tool will help you to locate profitable places where you can place your video ads across the whole Google Display Network.
Combining free and paid ways to promote on YouTube
So, now you know the ABC of the free and paid ways to promote your videos on the largest video platform. But you can make your YouTube promotion campaign even more effective by combining both ways to advertise on YouTube. Read on to learn how to do that:
If possible, try to create a well-optimized video that describes your biz the best possible way but can potentially be used as an ad. Thus you will increase the number of views you can get from organic video search and paid placement.
Note that you may assign different title/description to one and the same video when you upload it to YouTube and when use it in AdWords. So, technically, you may optimize the same videos for different keywords thus increasing the number of viewers both in organic and paid listings.
Another important area where YouTube networking can help your AdWords campaign is targeting. Investigating your niche video content landscape will help you find the most influential vloggers, whose channels and communities you can be potentially targeted for your paid ads.
And, finally, you can resort to remarketing. Associating your YouTube account with your AdWords account (you can link more than one YouTube account to it), Google will let you show ads to people who have once viewed your videos, visited your YouTube channel or subscribed to/unsubscribed from it.
These days, more and more brands are incorporating YouTube into their online advertising and marketing strategies. Using video ads across YouTube, Google search, and the Google Display Network proved to be an effective means to increase awareness of a product or brand and drive lots of targeted traffic.