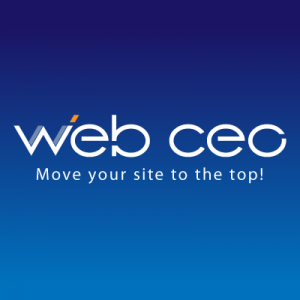 Web CEO Online is both a desktop-based and a web-based solution for search engine optimization that facilitates such SEO activities as monitoring search engine visibility (ranking), keyword research and analysis, onpage optimization, and tracking and building of backlinks. Web CEO seems to be an ideal all-in-one SEO solution. But let's check if it's true.
Web CEO in keyword research
The software finds keywords to optimize a website via 3 keyword research mechanists. The app takes keyword ideas from your Google Analytics profile, competing websites and its in-house keyword database called 'HitLens' (which requires extra charge).
Web CEO, however, is unable to get keyword suggestions from Google AdWords Keyword Research Tool and other popular sources (WordTracker, SEM Rush, Keyword Discovery, etc.).
WebCEO in monitoring search engine visibility
The 'Ranking' module checks website positions in major search engines and generates a report showing all site rankings fluctuations for your targeted keywords. Also, Web CEO is capable of monitoring competition rankings performance.
What is missing is the ability to perform Universal Search rankings check. Web CEO is incapable of analyzing Universal Search type of results, so there's no way to find out whether you are ranking with a video, image or shopping result.
Search Engine Submission Tool
Web CEO Search Engine Submission tool automatically (or manually) submits a site to search engines. This feature, however, proved to be useless, as search engines index pages on their own and do that pretty fast.
Web CEO in content optimization
The software is equipped with a content optimization tool that analyzes a promoted page and compares its content optimization level to that of the top ranking competitors. The tool also provides tips on how to improve overall optimization rate of a page.
Unfortunately you can't analyze a page for more than 3 keywords at a time. Also the tool doesn't let you compare your optimization rate with sites that are not in top 10.
Web CEO in onsite analysis
The software checks the whole website for various coding issues. The 'Website Auditor' tool lets you manage redirects, detect and fix 'slow' pages, locate and fix site internal and external broken links, missing invalid titles and metadata.
The feature the tool is missing is the ability to analyze HTML code errors.
Web CEO in link building and management
Web CEO 'Links' tool lets you view and analyze links to each of your website pages. The software fetches backlink data from your Google Analytics account and Majestic SEO backlink database (requires additional charges).
But when it comes to competition research, the Web CEO isn't of great help. The 'Partners' tool supports a very limited number of search engines and doesn't have its own backlink database. All that implies limits on the amount of prospective link partners one can find.
Supported OS
Unfortunately, WebCEO runs on Windows only. There are no solutions for Mac OS and Linux operating systems.
As you can see, Web CEO doesn't have a lot of features that are essential for executing important SEO tasks. Another SEO toolkit – SEO PowerSuite – has all the important features Web CEO is missing.
The key advantages of SEO PowerSuite over WebCEO are:
Integration with Google AdWords Keyword Tool
Integration with other popular keyword research tools (Word Tracker, SEM Rush, etc.)
The ability to track Universal Search type of results (news, pictures, videos, places, shopping, etc.)
Shaping onpage optimization strategies based on the most successful competitors techniques
The ability to analyze a page for more than 3 keywords
The ability to find HTML code errors
In-house backlink database
Detailed backlink analysis
The ability to verify and manage backlinks
The ability to run on other popular OS – Mac OS and Linux.
Still reading this? Grab your Free license of SEO PowerSuite tools and see your website rankings skyrocket!