Choosing the just the right keywords for your site is truly the key to successful SEO. They define your whole Internet marketing campaign – it revolves around keywords. Thus, if you really want to hit the bull's eye with your SEO efforts, performing a thorough keyword research is where you'd start.
There is a gazillion of keyword tools out there that help you research keywords from various perspectives. But today we'll talk about free Google tools that allow you to get valuable keyword intelligence without spending a penny. Some of them you probably heard of, while some names might not ring a bell. In any case, the more keyword research methods you use, the better targeted your search terms will be. So, it won't hurt to add these Google keyword tools to your SEO toolkit.
1. Goolge Adwords Keyword Tool
This keyword tool is well-familiar to most SEOs and Internet marketers. It was initially intended to assist Google Adwords advertisers with getting the highest-paying keywords for their PPC campaigns. And it has become a truly indispensible source of keyword ideas for almost every SEO professional.
The app will suggest keywords based on the initial list of search terms you provide or based on your website's content. It will also tell you the competition rate for each keyword, as well as the number of searches it gets on Google per month.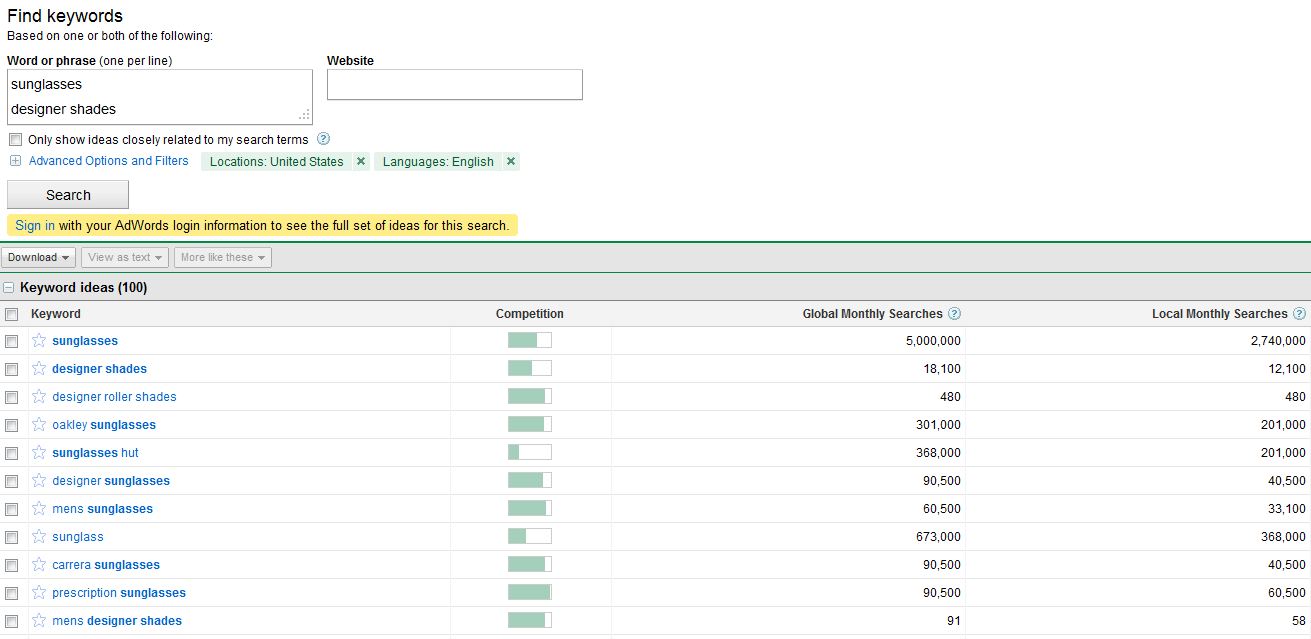 A keyword's search volume (aka search popularity) may vary depending on the match type you specify. The tool offers 3 match types – broad, [exact] and "phrase".
Broad match will bring you all the phrases that contain your keyword plus synonyms. For example, "designer sunglasses" will be considered a synonym for "designer shades".
Exact match will show the number of searches for an exact term, excluding synonyms or longer phrases with that keyword. For instance, it will tell you how many times the exact phrase "designer shades" was looked up on Google.
Phrase match will also include longer phrases that contain the initial key phrase you specify. For example, 'buy brand-new designer shades' and 'designer shades in different styles and shapes' will be considered matches for the phrase "designer shades".
Google Adwords Keyword Tool also groups suggested keywords into appropriate categories, which helps you easier find the ones that are more suitable for your website.


2. Google Suggest
You must have seen this many times. Once you start typing a search term on Google, you get suggested how to complete your key phrase. These suggestions are not random – they are based on popular terms people search for on Google. To get some unique keyword ideas for you site, start typing your initial keyword and copy the suggestions that appear. You can make a screenshot and convert it into a different format later. Or you can simply write down suggested keywords on a piece of paper – up to you.

The downside of this method is that it's not very convenient to switch between windows and programs or to take notes manually. Besides, you have to type in each keyword that you want to get ideas for.
As an alternative, you can use Google suggest inside the Rank Tracker tool. This SEO app will retrieve Google suggestions for a whole bunch of your words and will end up generating one single list of keywords for you to consider.
3. Related Searches
The Related Searches section on Google is yet another valuable source to tap into for more keyword ideas. Related searches normally appear at the bottom of a page when you google something up and look like this:

To get even more out of the Related Searches section, hit the More search tools link in the menu on the left and choose the Related searches mode. This time, an extended list of related searches will get displayed at the top of search results: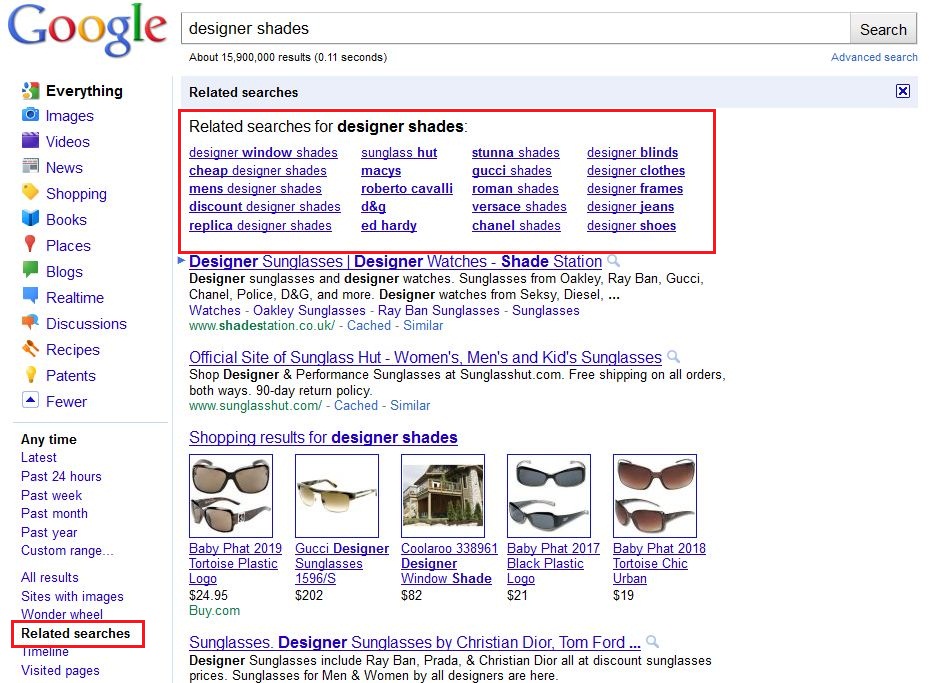 Besides, each of these prompted terms is clickable. If you click on it, a list of keywords associated with this particular term will be produced. Thus, you get an almost never-ending string of keyword ideas.
Besides, the Related Searches method can also be used inside Rank Tracker, if you choose.
4. Google Wonder Wheel
Google Wonder Wheel is yet another option you can use to get more keyword tips. It is located right below the Related searches button in the All results menu. Wonder Wheel is a way to graphically present keywords that are related to one another. It is not much different from the Related Searches option, but presents data in a more fun and refreshing way: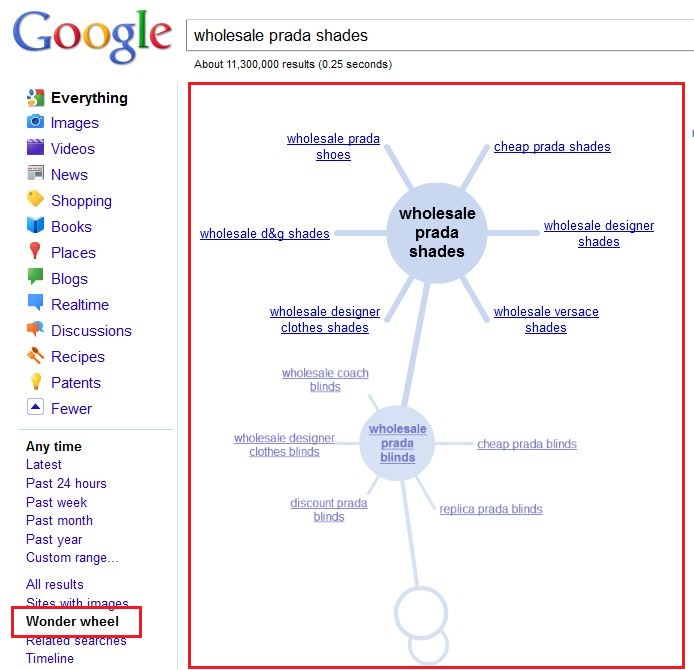 The wheel in the center contains your initial search term and is surrounded by related terms. If you click any of those associated keywords, another thematic wheel will appear, with the word you clicked on in the center. This method allows you to easily group words into thematically-related clusters and makes your keyword research easier, not to say, more fun.
5. Google Sets
Google Sets is a not-so-well-known keyword app by Google that produces sets of things based on the initial terms you enter. You can choose to get suggested a large or a small set of related terms. But even after it has been generated, you can opt to grow the set or shrink it.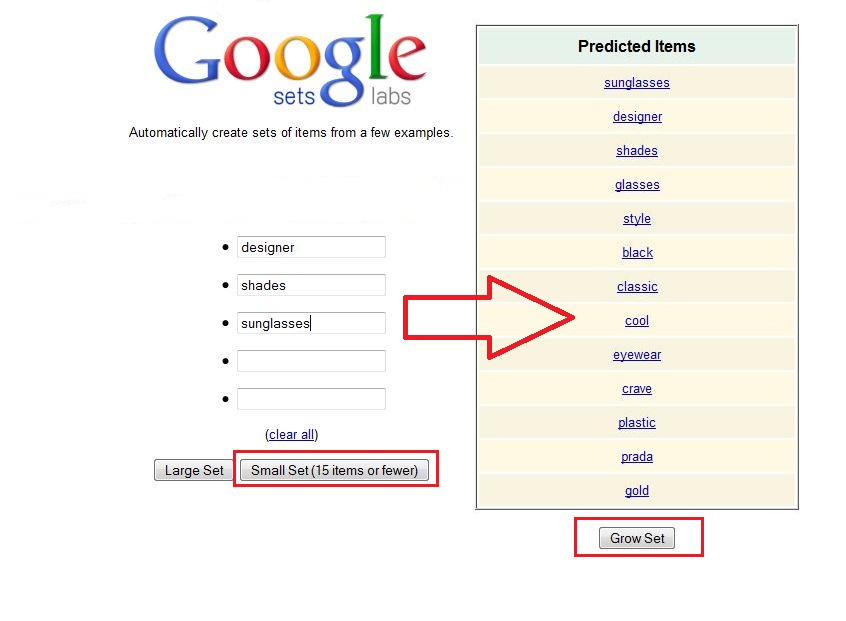 6. Google Trends
Google Trends allows you to see how the popularity of different search terms changes over time. It reflects seasonal fluctuations in certain keyword's search popularity, and allows you to see which one of your targeted keywords is looked up more often in comparison with a synonymous term. It basically helps you predict seasonal traffic changes and prompts you when a keyword becomes more or less "trendy".
Besides, it will show what countries certain search terms are most popular in. You can get info on up to 5 words within one single graph that allows you to easily compare them.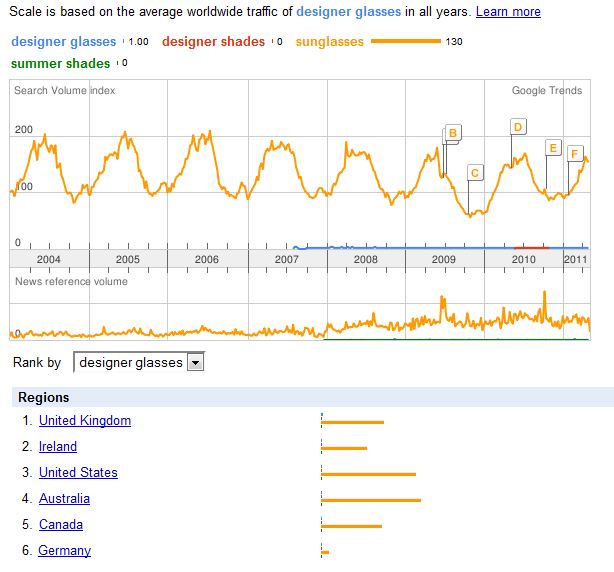 Please, note that the table does not show exact search volumes of words. It shows the relation to one another and uses the first keyword you enter as a starting point.
Another valuable insight this tool provides is top 20 most searched for terms on the Web. This way you can define hot topics to write on and discover keywords that will help you optimize your site or blog for Google News.

7. Google Trends for Websites
Using Google Trends for Websites you can see how the amount of traffic to a particular site changes over time, what other sites those who visit the site you're analyzing also go to, and what related keywords they look up. The app provides the following statistics:
The number of visitors to your site and seasonal traffic fluctuations
The websites those who came to your site also visited
The keywords those who came to your site also looked up
The countries your visitors came from

This way you can analyze traffic to your own website or get insight into what's going on your competitors' sites. Not to mention this tool is sure to bring you some totally unique key terms your target audiences really search for.
8. Google Insight for Search
Google Insight for Search is quite similar to Google Trends but provides a wider range of analytical data.
It also shows how keyword trend change over time, tries to predict searchers' behavior and displays search tendencies in different countries.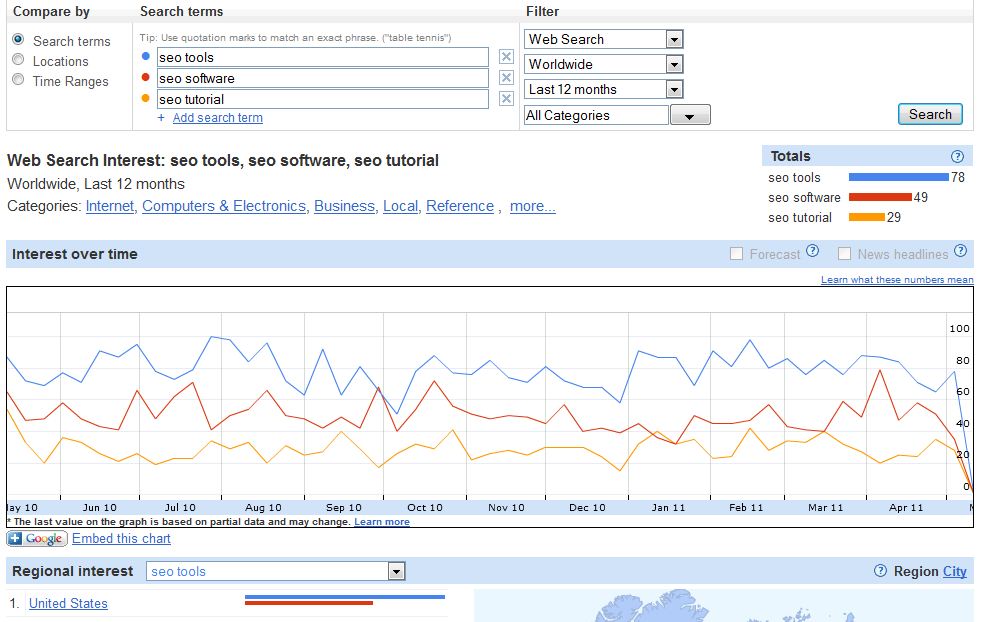 It gets you the following statistics:
Relative popularity of up to 5 search terms and how it changes over time
Top 10 most popular related searches
Top 10 fastest-rising searches
Top 10 countries where the search term is most popular
Search popularity forecast for 1 year
Before you analyze your keywords, you can set a certain region, timeframe and the span of the Web (Web Search, Image Search, News Search, Product Search) you would like to get analytical data for.
9. YouTube Keyword Tool
Nowadays a lot of Web marketers employ YouTube immense capabilities to promote their businesses online. YouTube Keyword tool will pinpoint the most popular terms that YouTube users search for. It is very much like Adwords Keyword tool. You can get keyword ideas based on (1) the initial list of keywords you specify, (2) you video's URL or (3) different user parameters that you specify, such as, age, gender, geographical location, interests, etc.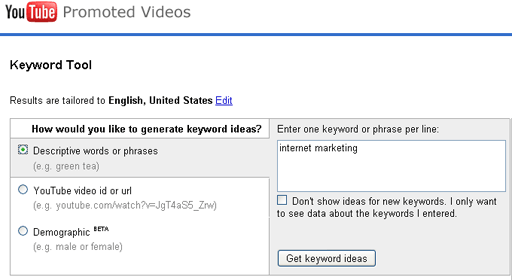 Just like with Adwords Keyword tool, you can see how many searches a term gets per month. Again, beware of different match types that may influence search popularity statistics.
10. Google Analytics
And, finally, good old Google Analytics. In case you are just starting a website and do not use Google Analytics yet, you might not know what I'm talking about. Google Analytics is a popular free Web marketing tool that allows you to track your site's performance and provides diverse analytical data regarding your site.
It also shows keywords that visitors actually used to arrive at your website. Such data is helpful for 2 reasons:
You can see what keywords on your site bring the most direct traffic
You can get some more keyword ideas you might have been missing out on
In order to see keyword-related statistics, go to Traffic Sources in the left-hand side menu in your Google Analytics, then choose Search Engines and add the Keyword column to the analysis table.
So, these were the ten free Google keyword research tools one can use to uncover a wealth of highly profitable keywords. As keywords are the basis of any successful SEO campaign, it's better to make use of different keyword research methods to get the best results.