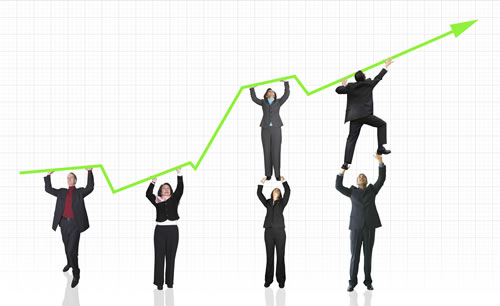 High-quality and abundant backlinks are by far the sure-fire way to drive your website to the top of search engine organic listing. No matter how Google updates its algorithms further, backlicks will always be the main ranking factor (unless social media push them back).
However, quality backlinks are not that easy to get if your website is a 100% e-commerce store. But the more challenging the task is, the more attractive it is.
Here are top 10 link-building ideas for an e-commerce store:
1. Start blogging
Corporate blogging is an awesome opportunity to be more human and personal to your customers and create quality content people will be willing to link to. Once you start blogging, other people in your industry will comment on your posts, share them in social media, thus adding you backlinks and spreading the buzz about your e-commerce store's blog around. Moreover, you don't always have to write content yourself – there is a bunch of guest bloggers willing to submit quality content to other blogs for free.
You can also take up guest blogging yourself. You submit your content to another blog with a decent Google PageRank and get a backlink for that.
2. Post on niche forums
We're not talking about spam here. As an owner of an e-commerce store, you're an expert at what you sell, so you can provide value to people by answering their questions. A link to your website in the forum signature section will be a bonus for your efforts.
3. Get involved in niche organizations and local business associations
Thus you'll be able to establish good business contacts offline, sharing experience and getting new ideas, partners, customers and friends. Moreover, your e-commerce store will be linked to in the member area of the association's website. One more backlink from a reputable resource is in your pocket!
4. Donate to local charities and nonprofit organizations
Find charities and nonprofit organizations which link to their donor's websites. It is a win-win situation if you donate to such organizations. These organizations will get some money to support their causes and you will get a high quality link.
5. Sponsor/organize contests and giveaways
Organizing contests or just sponsoring them is another great way to attract some links. Search for bloggers who actively organize contests for their readers. Ask their help to organize a contest on your blog promoting your company, or simply study their best practices and do something similar or totally different (creativity is the key to online success!!!).
6. Create a coupon code
Coupons are very popular, and almost every buyer tries to find a coupon code of a store before doing a purchase from it.
Make up a discount coupon code and submit it to coupon sharing sites and blogs. Most of these sites give a do-follow link to the store website. So this technique will not only help you in link-building but also in increasing your brand awareness.
Still, don't overdo with coupons, as customers will stop buying your products or services full price, knowing next coupon campaign is about to come.
7. Offer products for review
Search for influential websites owners in your niche who write about different product and service providers, and submit your product for review. According to internet statistics, up to 90% of customers make their buying decisions online and many of them look for reviews and customers' opinions. Thus, you'll not only get a link to your website, but also attract new customers.
8. Issue news releases
Submit news/press releases to online press release distribution services. You'll be amazed at how quickly your news item with a link to your website will spread around the web! For a start, submit a news release about your online store to a local paper's online version or a Chamber of Commerce newsletter.
9. Submit your online store to directories
Spread the word about your website in search engine directories (e.g. Yahoo! Directory), social shopping websites and other directories that provide thematic grouping of e-commerce websites. Often inclusion will cost you some money, but thus your website will be given more prominence and will stand out from your competition.
10. Plan and track your link-building efforts
At the end of the day, your link-building campaign will be successful only if you plan it carefully and further track the results. There's special SEO software that can assist you in your link-building efforts. You can use a backlink checker to track your own link-building results and spy on your competitors: get a list of their backlinks, analyze their SEO value and get the same ones. You can also use link exchange software to get partnership suggestions, create link directories and manage your link-building correspondence.